The Healer is a Tier 3 support ship geared towards healing teammates. Both its passive and active skill repair itself and nearby friendly ships meaning that it is particularly well-suited to being part of a fleet.  
By itself the healer is weak, though speedy enough to flee difficult situations.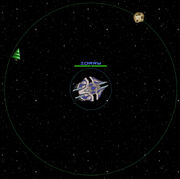 Ad blocker interference detected!
Wikia is a free-to-use site that makes money from advertising. We have a modified experience for viewers using ad blockers

Wikia is not accessible if you've made further modifications. Remove the custom ad blocker rule(s) and the page will load as expected.