The M.O.D. is a Tier 3 support ship able to spawn basic turrets. The M.O.D. is also provided with a passive scrap skill, and an upgraded movement speed skill.
Strategies
Edit
The M.O.D. is used for branching off into one of the three support ships - the Mechanic, D.O.D, and the Alert. Try not to place any basic turrets as the M.O.D, as the turrets won't be as useful. Your main goal is to try and upgrade to the final ship of your choice as fast as possible. Placing and upgrading your basic turrets will use up your scrap, slowing you down from upgrading to the next tier. Focus on upgrading your movement speed and passive scrap as these skills will help you in upgrading to Tier 4 as fast as possible.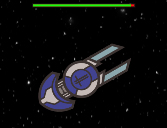 Ad blocker interference detected!
Wikia is a free-to-use site that makes money from advertising. We have a modified experience for viewers using ad blockers

Wikia is not accessible if you've made further modifications. Remove the custom ad blocker rule(s) and the page will load as expected.